Summer 2015 Studio News:
Concert: July 27th, 8pm, doors-7:30: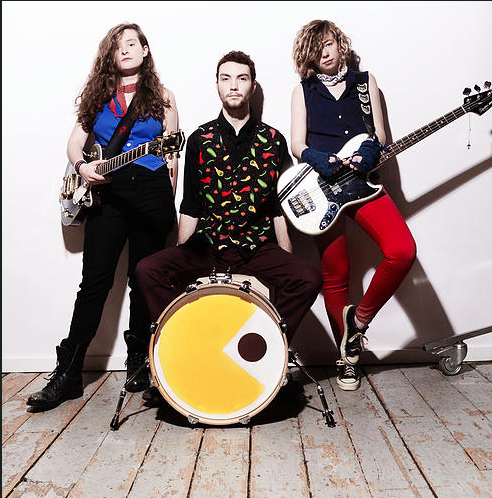 Studiocole is hosting an awesome concert at the Carriage House!
You know you love Music!

The Accidentals...
"one of the most ground-breaking musical experiences one might just have in a lifetime. If you're looking for a new indie folk band to get into, you couldn't do much better than The Accidentals. 'Bittersweet' is their best overall release yet!" --Jonathan Frahm -YAHOO Voices
Billboard Magazine names The Accidentals a Breakout Act from SXSW

"Frighteningly good!" - Andrew Bird

for tickets: http:// accidentals.brownpapertickets.com/

all proceeds go to the musicians!
......................................................................................................
Spring 2015 Studio News
Midcity Artists Open Studio: May 2 + 3, 12-5pm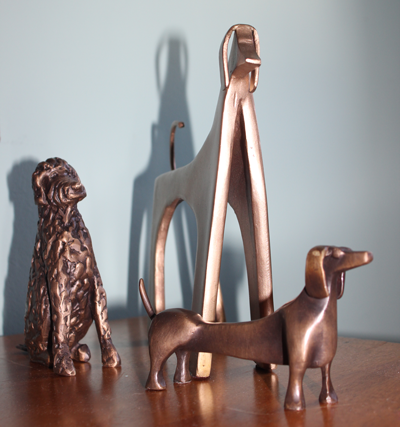 Yes! It is time for the Midcity Artists Spring Open Studio and we will be hanging out at the carriage house with some awesome pieces of art. Studio Cole has some astounding work to share with you. Over the past year, I have added to the collection of bronze casts that Robert began producing in the 90's.
Along with Robert's cast bronze and hand-formed metal sculpture we will feature works by artists Scot McKenzie and Jimmy Cox.
Scot worked with Robert for many years and helped him build a number of his monumental sculptures. He has developed his own style and crafted some extraordinary textured and colorful wall reliefs in bronze and steel as seen in Utah Sun shown below.
Jimmy Cox who has been long associated with the studio will show some acrylic paintings on wood bursting with color and form.
In Other Exciting News: Studio Cole will host a concert on July 27th at 8pm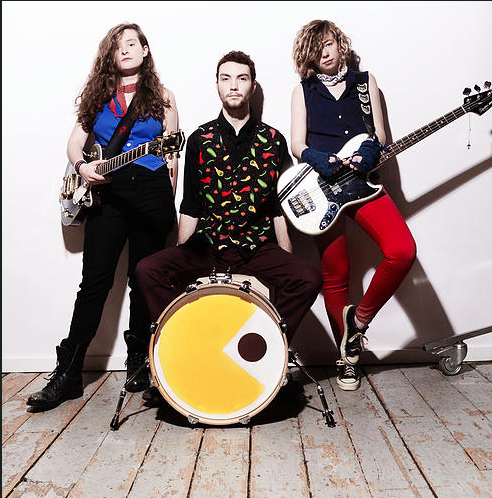 In association with Stone Room Concerts, The Accidentals, a terrific indie folk band on the rise,will rock the house with their original tunes. You will hear more about this in the coming months. We look forward to seeing you. -Susan
...................................................
Fall 2014 NEWS:
Middleburg Arts Project Gallery
Nov. 7th - Nov. 30th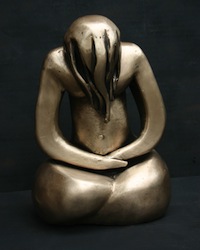 Bronze casts by Robert Cole are featured in a group show at the newly opened Middleburg Arts Project Gallery in Middleburg, Va. If you have not taken a ride through this picturesque countryside, it is a good time to do so. You can enjoy the scenery, view art and have a meal in the charming town of Middleburg, only about and hour and 15 minutes from Washington, DC.
...............................................

MCA Fall OPEN STUDIO, Oct. 18 +19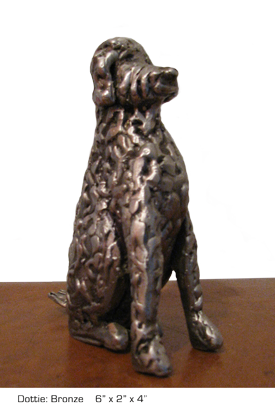 Studio Cole will open its doors along with the Midcity Artists on Saturday, October 18th from 12 noon to 5pm and again on Sunday, October 19th from 3-5pm. Come and see the large stainless steel sculptures Robert created in the last 15 years as well as cast works, some of which will be available for the first time.Please drop by and enjoy his beautiful work, the great space and some digitography created by his wife, Susan.
Click here for a map to the Open Studio tour. And check out this super cool mapping site to map your tour!
A video of Robert made in 2002 by videographer David Snider with music by Scott Burgess is available to watch here.
And for those interested in the casting process, New Arts Foundry, which we use, gives a great description on their site.
...............................................................

......review.
Summer 2014

In support of our current show: Scrape.Grind.Shape
Studiocole Presents: Live Music
feat. WARHOL SANTANA

An Evening of Art + AFROPUNKADELIC ROCK and ROLL
6-9 pm, Sat. June 28 || Music starts at 7pm......Be early!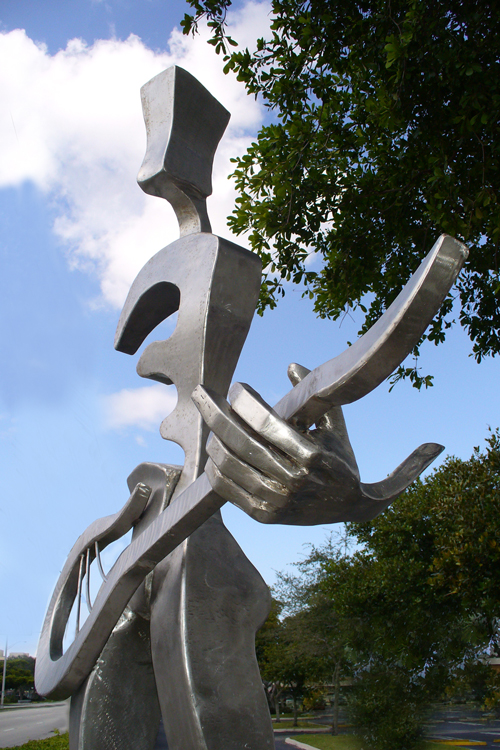 Current show at the Studio is open by appointment through July 27
click here for Washington Post review
...............................................................
Scrape.Grind.Shape : Spring 2014 OPEN STUDIO:

June 14 6-9pm, June 15, 12 pm - 5pm, June 19 + 20, 6-9pm
and open by appointment through July 27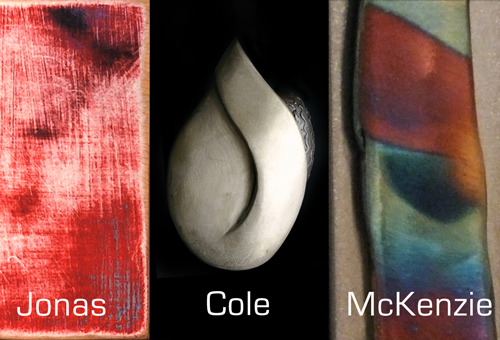 Studio Cole is pleased to announce the first exhibition
in its new mission as a presenting gallery.
Scrape Grind Shape: Fluid Process Works by Bill Jonas, Scot McKenzie and Robert Cole features sculpture, paintings and wall reliefs unified in the artists' exploration of figure, layering, texture and the interplay of form and negative space.

The exhibition presents figurative bronze casts by Robert Cole in the first posthumous showing of his work.  Cole achieved prominence by employing a unique direct-metal technique to realize a vast range of monumental, public and indoor works. In the latter part of his career, he created a series of small and table-sized essentialist pieces using this approach and his ability to shape metal into flowing and contemplative human forms.

A selection of oil and acrylic paintings from award-winning artist Bill Jonas depict the figure in expressionistic cabaret scenes or strangely whimsical and patterned settings.  A body of newer abstract works by Jonas deals with the emotional consequences of removing layers and exposing hidden realms in his canvasses. 

We find conceptual and meditative elements in the tension and textures of wall reliefs and sculpture by Scot McKenzie in his exhibition debut.  McKenzie, who expanded his vocabulary during a long apprenticeship with Cole, delves into the contrast of surfaces in his bronze and steel works and investigates the fluidity of these materials.


This exhibit will be open by appointment through July 27.
Check out this vid clip of Robert at the installation of "The Thought"
..................................................................................

OUR STUDIO can be seen on the web at Apartment Therapy's site which features interesting spaces of NY, LA, DC, San Fran, Chicago and Boston.


...................................................................................................................
SPRING 2013 NEWS :
MCA Spring OPEN STUDIO, May 18 +19, 12 pm - 5pm

Exciting news for us!"The Thought" has been purchased by JBG Rosenfeld, for the new Tyson's West, a mixed use space across from the Tysons-Spring Hill Road Metro Stop.If you would like to see the process of how "The Thought" was built click here.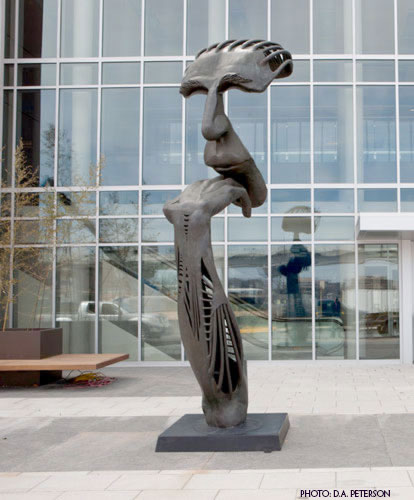 It has been a profitiable and productive winter. We have sold two figurative sculptures, "The Bass Player," and the "Innkeeper," and completed a commission for a table and 2 stools.

Sparks have flown in the studio as Robert has fashioned some of his stylized animals for the Spring Midcity Artists Open Studio. This year, the MidCity Artists will have its own app available for the month of May. It is going to be a great tour with 28 artists showing thier varied and dynamic visual treats. We hope to see you!
...................................................................................................
MIDCITY ARTISTS FALL 2012 OPEN STUDIO: October 13 + 14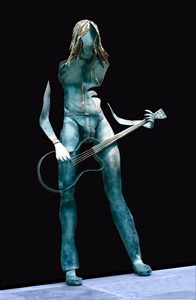 What you will see when you come to the FALL show is a surprising amount of new sculptures created over the summer. Robert did try to take it easy a bit, but when inspiration strikes, the welder gets fired up, and the imagination becomes reality. Come and check it out!
And here's a link to the recent Washington Post review of Robert's show at Zenith.


Do stop by for our open studio event and also get around to see some of the Logan/Dupont areas fine MIDCITY ARTISTS, all in a great walking distance from each other.
Need a map of the tour? click here.
..............................................................................................................
CURRENT EXHIBIT JULY 16 - OCTOBER 6, 2012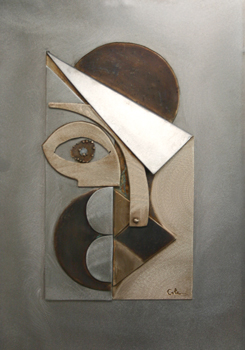 MATERIAL POWER - PURE METAL Curated by Zenith Gallery
STUDIOCOLE SUMMER 2012: Summer has been kind. Travel, visitors and a number of art sales have been keeping us rolling at a good clip. We are excited to headline our summer with the solo show at Zenith Gallery Eleven Eleven Scupture Space. What a grand setting to showcase the work. Come on down for the Artist Reception on Wednesday, July 25th from 5-8pm. View the exhibit and read the Washington Post.
STUDIOCOLE SPRING 2012: S P R I N G Open Studio is May 19 + 20, 12-5pm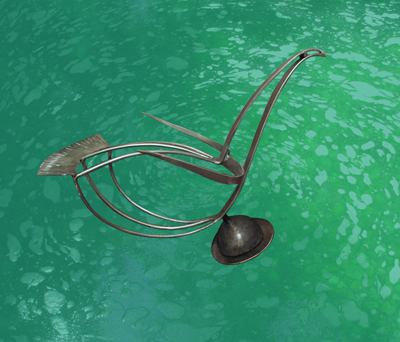 Thankfully, Spring has landed! This winter has been both challenging and productive. Robert started the year with hip replacement surgery, but somehow he has had a surge of creative energy. He is in the final stages of completing a commissioned wall piece which is 10ft high for a private home, and has also been fired up in the studio working on smaller items for interior settings.He even has some lamps for this show. There were also two shows this winter: One at the Watergate Gallery and the other at Gallery Plan B, both in the District. We are quite pleased that the DC Commission purchased two pieces for their Art Bank! We are keepin' it local!
.....................................................................................................................
STUDIOCOLE SPRING 2011: S P R I NG Open Studio is May 21 + 22, 12-5pm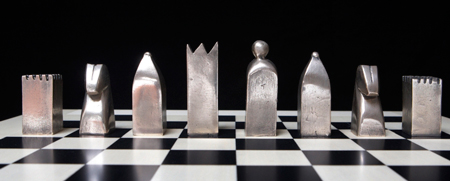 ARE WE OBSESSED with Chess? I guess so! Robert has created 2 versions of the game. This one is smaller and less elaborate than the one below. In fact it is mimimalistic, yet very easy to differentiate the iconic pieces. We are involved in an ongoing game on the dining room table where we play as we can, taking one move at a time during our daily walks by the table.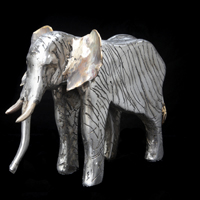 Do come by the Open Studio and see some of the new work, such as the hand-carved animals. These are great for city dwellers as they need no walking or trips to the vet.
And it will be a fine weekend to walk around the nieghborhood and see the other participants in the show.

For a map to the MidCity Artists Open Studio tour, click here or go to the midcity artists site. There are 28 artists this time including some new members. It should be fun!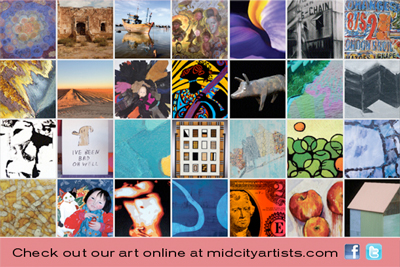 .....................................................................................................................
STUDIOCOLE FALL 2010:

Click to see the Washington Post pix from the Fall Open Studio

and check out a video of the event on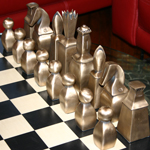 Stop by and see us! The Fall OPEN STUDIO is on NOV. 6 + 7 from 12pm - 5pm. New works include some smaller sculptures, some of which are models for larger works. There is some elegant furniture and wall pieces, and also two very different and quite handsome chess sets that Robert has produced.

Click here to see the entire chess set and inividual pieces.

Robert has installed the trio of trees for Georgia Commons and they have chosen to rename the building, "Three Tree Flats" after the piece was installed. It has been a fruitful summer and fall with new projects lining up in different areas of the country. Check back for more details soon.

STUDIOCOLE SPRING + SUMMER 2010: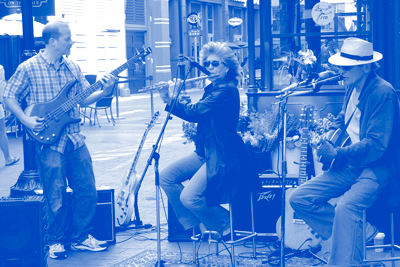 THE CAPITAL FRINGE FESTIVAL: One of our favorite events of the summer is this creative and unpredictable theater festival that is now celebrating its 5th year. We, Blue Judy that is, has been invited to play our original music on July 22nd at 6pm in the Baldacchino tent located at the Fringe HQ: 607 New York Ave. NW, WDC.
visit capfringe.org for more info


Scott Burgess, Susan Cole, Robert Cole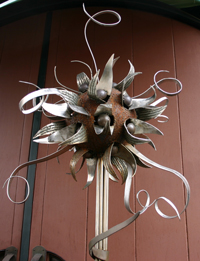 SCULPTURE: This season is proving to be quite busy with several projects in the in the fire. Just got back from Gettysburgh, PA where 2 pieces were on display for the Gettysburgh Festival. Robert completed construction of a triad of trees that was craned into the courtyard of Georgia Commons on top of a green roof. The building is in the Petworth neighborhood of DC. This is a commissioned work from the Jair Lynch developers and EDG architects.

Another large project has begun in collaboration with George Bridge Boxwoods. Robert will be creating sculptural adornments for these beautiful trees in a unique concept that we can't tell you about because it is a huge secret. Seriously, photos will be forthcoming.

Grovewood Gallery in Asheville, NC has invited Robert to show in their annual Garden Sculpture exhibit. The gallery is on the luxurious grounds of the historic Grove Park Inn.The exhibit opened in June and goes through December.

and don't forget........

The Midcity Artists SEVENTH ANNUAL SPRING OPEN STUDIOS, MAY 22 + 23 (12-5pm).
This spring, we will be unable to participate in the OPEN STUDIOS but you can visit 27 of our neighborhood artists in their studios.It's a great way to see how and where art is made and to meet some interesting people. We'll be open for the FALL Open Studio in October so check back with us then.
Download a brochure with a map from the site: click here, and sign up to be on the email list.

........................................................................................................................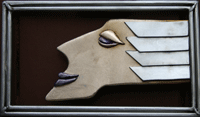 STUDIOCOLE FALL 2009:
The Midcity Artists SIXTH ANNUAL FALL OPEN STUDIOS, OCTOBER 6+7 (12-5pm).
Robert has been at it again....that is....sculpting like mad.
Come on over to our OPEN STUDIO.

After that, take a tour of 20 more artists' studios within walking distance of the Cole Carriage House. These local artists will be opening their spaces to show their wonderful art, as well. You will see a lot of diversity in style and materials, including oil paintings, glass, silkscreen, found object and more. Download a brochure with a map from midcityartists.com click here, and sign up to be on the email list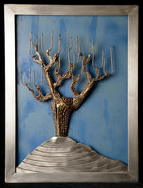 .

....................................................................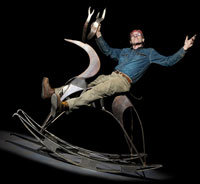 STUDIOCOLE: SPRING + SUMMER 2009: Look for Robert to be in group show of local sculptors at the Watergate Gallery in the famed building opening in the 3rd week of June.
MCA OPEN STUDIO - His new work is wonderful. Take a ride on the "Rockin' Reindeer," and see the unique creations of hand-formed metal sculpture that Cole has brought to life.Many of his new pieces are mid-sized and smaller. Click here to see some of the new collection.

Spring has been a good season so far. Sculptures have sold to clients in Miami and down under...to Australia.

Those of you who are local to the Dupont neighborhood and have been wondering about the sculptures that were at either end of the S St. Park, here's the story. The park is getting a serious makeover and will look gorgeous when finished, as it is being redesigned to be a great spot for sitting and hanging out as well as a safe place for dogs to romp and play.It is slated to reopen sometime in late May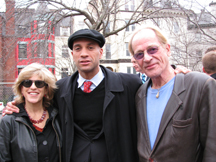 Robert is committed to returning sculpture to the park and has recieved support from the city to help with transportation costs. As you can see, Mayor Fenty celebrated the groundbreaking ceremony last March and dug in with his shovel to initiate the landscaping effort.



STUDIOCOLE FALL 2008/WINTER 2009:
The Midcity Artists SIXTH ANNUAL FALL OPEN STUDIOS, December 6+7 (12-5pm). Please stop by the STUDIO the first weekend in December. Robert will be showing a brand new large, hand - sculpted, bronze work- a private commission of Bacchus, the god of wine. It is powerful! After that, take a tour of 20 more artists' studios within walking distance of the Cole Carriage House. These local artists will be opening their spaces to show their wonderful art, as well. You will see a lot of diversity in style and materials, including oil paintings, glass, silkscreen, found object and more. Download a brochure with a map from midcityartists.com click here, and sign up to be on the email list.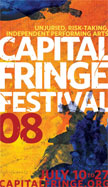 STUDIOCOLE SUMMER 2008:
The Capital Fringe Festival, an unjuried festival of theater performances whose mission is to connect exploratory artists with adventurous audiences by creating outlets and spaces for creative, cutting-edge, and contemporary performance in the District, has selected Cole Studios as one of its venues for 2008. Festival performances begin on July 10th and run thru July 27th. Travel to the Capfringe website to download a festival brochure and to find out more about this amazing event.

Washington Square Invitational Exhibit: Two sculptures of have been curated into this exhibit which is located in the Washington Square Building at 1050 Connecticut Avenue, NW, Washington, DC. The exhibition is scheduled to run from August 4, to November 1, 2008. There will be 24 artists showing a total of 42 works.The reception for the show will be on September 6, from 3:00 to 6:00PM.

Other summer projects: After the Festival, Robert will begin work on several
commissioned pieces. One of them is a large (10-12 ft.) sculpture of Bacchus. Check back for photos of the process as the sculpture takes form.

STUDIOCOLE SPRING 2008

It's that time of year!
Merriweather Post Pavilion, in Columbia, MD, opens it's spring-summer concert season with Santana! They are exhibiting 3 major works of Robert's, on their beautiful grounds. They have a great line-up so far, including Sheryl Crow, Robert Plant, Alison Kraus. Check it out!



THREE LOCAL SHOWS: The Foggy Bottom Association's Outdoor Sculpture Exhibit has selected "Leaf" to be one of twelve sculptures to be on public display from May through December. This unique exhibit places art in the front yards of townhouses in DC's historic Foggy Bottom neighborhood for the public to view. Guided tours will be held and a catalog will be printed to inaugurate the show.

The Aaron Gallery is currently showing a sculpture exhibition by Alice Kiderman and Robert Cole. Join the gallery and artists on Friday, April 4th for an opening reception at 1717 Connecticut Avenue, NW, Washington DC at 6:30 to 8:30 pm. Contact info@aarongallerydc.com for further details.
MIDCITY ARTISTS SPRING OPEN STUDIOS: M

AY 17 + 18, Noon - 5pm:
Travel by foot around the Logan-Dupont neighborhood to see over 20 artists with their new work in various media. ROBERT will have a number of fresh pieces to unveil. Click to see just a few of the many new pieces.
download a map of the tour :: midcityartists.com

.........................................................................................................................
STUDIOCOLE WINTER 2008: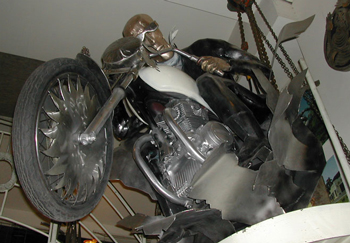 The Washington Post Weekend section, for Jan. 11, has a photo of the Moto Man in an article
about "Tattoo," a new nightclub on K St., NW, for which this sculpture was commissioned.
This photo was taken in the studio, but click the link to see it in the club .

EXHIBITS: Galerie Ingrid Cooper :: 11301 Rockville Pike, 301.881.3534
N. Bethesda, MD [White Flint Mall] Small works and wall sculptures

Studio Gallery: Mid City Artists Group Show :: 2108 R St. NW, Wash,DC, 202.232.8734
studiogallerydc.com

Home & Design Maga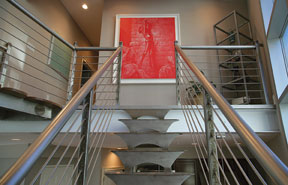 zine:
Features Robert's custom design and crafted
staircase and catwalk for a stunning glass penthouse in Logan Circle, DC.
To see the complete article and more photos click here.


STUDIOCOLE FALL 2007: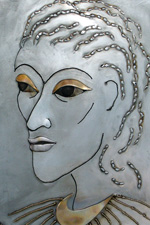 OPEN STUDIO Sat. NOV. 3rd and Sun NOV. 4th [12pm - 5pm]
New sculptures will be on display in the Carriage House Studio as part of the Mid City Artists' Fall Open Studios Walking Tour of 20 artists' studios.Cooler temperatures, rich colors, varied architecture and new shops, galleries and eateries make autumn a great time to walk around Washington, especially the ever-evolving 14th and U St. neighborhood. It's also a good time to stimulate your senses with some locally created art.


sneak preview of OPEN STUDIO
CORAL SPRINGS EXHIBIT: NOV. 07 - APRIL 08
The City of Coral Springs, in South Florida has selected The Guitar Player for an outdoor exhibit. The sculpture is one of 9 others curated for this show which places the artworks along Sample Rd. for the community and visitors to enjoy.

STUDIOC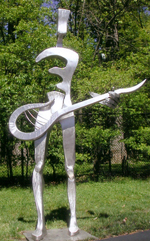 OLE SPRING + SUMMER 2007:

EXHIBIT IN FLORENCE, ITALY:
Nine sculptures will be on display in Caruso Jazz Cafe in the center of Florence Italy, just steps from the Uffizi. The exhibit is sponsored, in part, by the Fondazione Toscana Musica e Arte.


FRINGE FESTIVAL:
Look for a playful set design, including 7 of Robert's sculptures in the Box Office of this year's Captial Fringe Festival.
Robert has teamed up with Scot McKenzie to create an engaging atmosphere of playfulness. The set will remain up through Arts on Foot, scheduled for Sept. 15.
OPEN STUDIO Sat. MAY 19 and Sun MAY 20 [12pm - 5pm]
Don't miss the Mid City Artists' Spring Open Studio. Robert Cole will have several NEW
pieces to present, as well as a line of sculptural jewelry.


sneak preview of OPEN STUDIO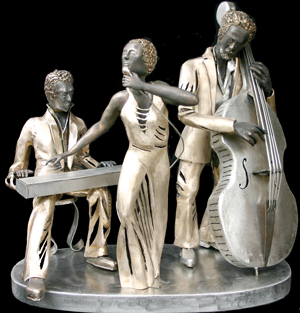 JAZZ ON U
Of special interest will be the model for Ellington Plaza.

Cole is a finalist for the DC Commission on the Arts call for entires.
This piece, if selected, will be installed in front of the renovated Howard Theater at the
corner of Florida and T St.,NW.

CLUB LOTUS AND TATTOO: These 2 new K St. clubs are slated to open in April/May
Cole has 2 sculptures that are adorning the walls of these architecturally modern hot
spots. Check back for more details in the near future.

MERRIWEATHER POST PAVILLION: The new concert season starts soon! The
grounds at Merriweather in Columbia, Maryland, are host to three 16' ft. Cole sculptures.
Music and art partner to create a visual and auditory feast.

STUDIOCOLE WINTER 2007:
In the Press :: The February-March issue of Chesapeake Home Magazine
features Robert's art work. The profile, written by Scott Sowers,
includes a generous photo spread.
Check it out at your local newsstand or click here to view their site.

NEW :: Bronze casts of the Diver are going to be available in
early April. The original hand-formed bronze sculpture can be seen at TERRA
And, available now...Pendants :: One inch Sterling silver casts of the Diver,
on silver chains or leather.
TERRA [1706 Connecticut Ave. NW, Washington, DC ]
is a new New York style shop in Dupont Circle
that carries a selection of quality items
by international designers and artists.

[ see :: smaller works + Diver ]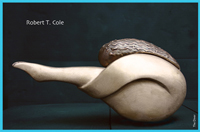 GROUP SHOW:

The Annual MIDCITY ARTIST's WINTER EXHIBITION AT RESULTS Capitol Hill

13 Feb - 30 March 2007

Opening Reception Hosted by BOBBY VAN'S GRILLE

Thursday February 15, 6:30 – 8:30 PM

315 G St. SE Washington, DC

fishergallery.com....midcityartists.com

MUSIC & SCULPTURE
STUDIOCOLE NEWS FALL 2006:

FALL OPEN STUDIO
Saturday and Sunday: November 11 & 12, 12pm - 5pm:
Two new commissioned sculptures will be on view as well as new
wall sculptures and smaller works available for sale. Tour the
studios of neighboring artists as the Mid City Artists have 30
artists showing creations in their studios on the same weekend.
Click

here to preview some of the new work.
And here for

by Elvert Barnes taken at the Open Studio.
Upcoming Debut

Club Lotus, a new nightclub coming to K St. in Washington, DC
has commissioned a 9 foot reclining Buddha to enhance their wall
space.Bursting out of a wall will be Moto Man, a life-sized motorcyclist
which will has been commissioned for another new club, Tattoo
The opening of the clubs are projected for late November.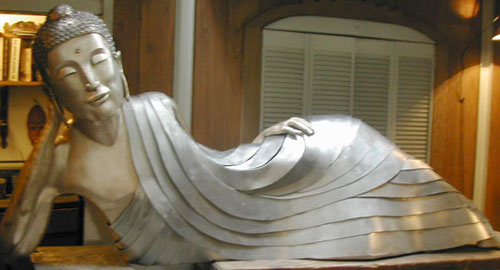 September 23rd: THE VIRGIN FESTIVAL
will display Six Sculptures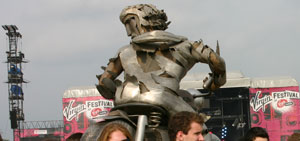 The Red Hot Chili Peppers and The Who are headlining the
Virgin Festival at Pimlico Racetrack in Baltimore, MD .The venue
has chosen 6 large sculptures to display around the festival,
integrating art, music and lots of spontaneous dance.

September 16th: Arts on Foot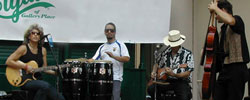 AOL City Guide picks Robert Cole's band and
sculpture as a highlight of the Penn Quarter's
Arts on Foot, Sat. Sept. 16. Blue Judy plays in
front of Gallery Place , 713 7th St. NW 1-3:30


photos by Elvert Barnes


:::::::::::::::::::::::::::::::::::::::::::::::::::::::::::::::

SPRING and SUMMER 2006:

BEATLES ART BOOK selects
JOHN LENNON SCULPTURE:
Arriving in bookstores this August, "Beatles Art: Fantastic New Artwork of the Fab Four."All of the images in the book are original artworks inspired by the Beatles.
The book, which includes artists from all over the world is published by
Boxigami Books.
Check back here for a  schedule of book signings by the artists
and editors.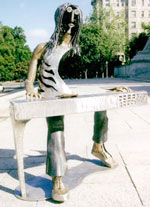 GROUP EXHIBIT: Figuratively Speaking - Stamford, Connecticut
June-August, 2006
Each year Stamford, Connecticut Downtown Business District hosts a distinguished outdoor sculpture exhibit. Opening on June 8, Art in Public Places - Figuratively Speaking will exhibit 6 of Robert's large sculptures . They will be on display in various locations in the downtown area of Stamford, 20 miles NE from
Manhattan. Over the past 13 years, the annual show has exhibited the work of some of the country's most prominent contemporary sculptors.

Spring Open Studio May 20-21

will feature new work:
Small and large sculpture :: wall pieces :: drawings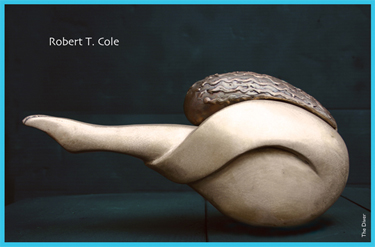 The Spring OPEN STUDIO will take place on Saturday May 20 and Sunday May 21.
Robert has some new smaller scale pieces for table and wall display. The show is called
" Drawing in Metal."The Open Studio is part of the Mid City Artisits spring event featuring 30
local artists in the Dupont - Logan Circle Neighborhood.
For a map to Cole Studio click here.
For Mid City Artist website and map of tour click here.

On Tap Magazine
Look for an article about Robert in On Tap Magazine (which can be found in many cafes
and bars around the city) on April 1. Find it on the web at ontaponline.com .


LIVE CONCERT at the STUDIO !!!
Sat. March 25th
Backyard and Living Room Tour
.....................................

We are proud to be sponsoring a concert by our friend and multi- talented musician extraordinaire,
Jesse Jackson who hails from Miami, FL. Jackson tours with friends Raffa & Rainer. All 3 are
singer-songwriters presenting original music. Sound Bytes and More Info



[ Contact ].......[ map to studio ].......[ Studiocole Main Menu ]

:::::::::::::::::::::::::::::::::::::::::::::::::::::::::::::::
FALL 2005 - WINTER 2006
RESULTS GALLERY ON CAPITOL HILL: Jan 17-March 12
Group Show with Mid City Artists. Opening Reception, January 19th 6:30-8:30pm
Results, 315 G Street SE, Washington, DC

ART BASEL:MIAMI: Nov. 26-Dec 31
Damien B. Gallery in the Wynwood Arts District of Miami, FL is presenting a one-man show of
Robert's work. The show opened on November 26 and coordinated with many events during the
Art Basel week.[.El Nuevo Herald Review ]
A range of sculpture from table-size to monumental size is on exhibit, and for the first time,
framed sketches of Robert's work are on the walls, some with matching metal wall pieces.
[.Exhibit slide show ] [.Gallery Opening slide show ]
OPEN STUDIO: Saturday November 12 & Sunday, November 13, 12pm-5pm:.
[. sneak preview slide show ]
Studiocole will host its annual fall Open Studio in conjunction with the Mid City Artists
Open Studios and the Washington Sculptors Group Open Studios. Maps of all the participating
studios are posted on both sites. .[..party slide show ]
ARTS ON FOOT:
Saturday, September 17th from 1pm-4pm:
We will be reviving our old band, BLUE JUDY, to play our original music at the Penn Quarter's "
Arts on Foot" festival.
.......


We will be joined by our original bassist, Eric Leifert, and by Giovani Travez on percussion.
In addition, this year Robert was invited to display sculpture at Gallery Place Plaza. Read about us
in the Washington Times - Cover for Weekend Section
for more info.:www.artsonfoot.org
EXPERIENCING MERIDA: A Conversation with Washington's Ambassadors to the
Macay Museum
...........................

Thursday, September 29, 2005, @6:30 pm:
Robert will be joining 5 Washington Sculptors Group members in a panel discussion of the Macay Museum exhibit, "Hermandades Esultoricas,"
that took place in Merida, Mexico for which Robert's piece, "D.N.A.-tor was selected for exhibition."
The panel will be hosted by Twylene Moyer, managing editor of Sculpture Magazine. The forum will"
take place at the Cultural Institute of Mexico.
Slide show of the D.N.A.-Tor in Mexico

[ Contact ]........[ map to studio ].......[ Studiocole Main Menu ]